It's no secret that Aubrey Graham is a rather sensitive fellow, one that probably enjoys bareback horseback rides and Terry McMillan novels. However, Captain Save-A-Hoe has a spiteful side that is far less publicized; think of him as the rap game Regina George. When Drake gets aggressive, his words can sting with the same bite of those from a teenage cheer captain in a hefty girl's Facebook inbox, and he seemingly takes great pride in diffusing a situation by not addressing it directly, letting it linger until his opponent gets so frustrated he gives up or until the feud is deemed irrelevant in the court of public opinion. Passive-aggessiveness is his modus operandi, and we've grown accustomed to hearing him intricately lace records with tons of subtweet-worthy material. The trend continues on the Toronto MC's third solo album, Nothing Was The Same. But who are his subliminals targeting? Here are a few guesses.
***
Stuntin' on 'em.
***
"Tuscan Leather"
"Bench players talking like starters, I hate it."
Hypothetical Target:
Tracy McGrady
Drake is a champion of Kobe Bryant, so much so that he has taken to unnecessarily defending the all-star guard's honor at times (just ask Vanessa). Jay Z, in an interview with Elliott Wilson, called Drake the Kobe Bryant of hip-hop, so it only makes sense that the Toronto king might relate to the five time NBA champion. It seems only fitting, then, that the rapper would once again come to the mamba's aid in a time of need. Kobe, in an interview with ESPN, did what Kobe does and talked his talk. He made some pretty convincing claims that he washed former all-star Tracy McGrady in a series of 1-on-1 games back in the day. McGrady himself, then an elite benchwarmer for the San Antonio Spurs (now retired), went on to deny the games even took place, as if to question Kobe's credibility. "Oh, so you're just gonna come at Kobe like that??? You callin' Kob' a liar?!" Drake thought over a warm cup of Chamomile tea, furiously clicking away at the keys on his blackberry. One could assume that, out of that rage, this gem emerge.  So, this is just Drake defending his mans, right? Right?! Maybe not.
Most Likely Target:
Pusha T
Pusha T is the antithesis of Drake. Perhaps, that has something to do with the bad blood between them. That and the not-so-subliminal war of words that has been waged by Aubrey and Pusha's GOOD Music label boss, Kanye West, over the last few years. Pusha has chosen to take a more direct approach to dissing Drake, though, and it's safe to say this is how Drake would respond to such fire. Pusha T has grown into the role of Sergeant-in-Arms with his imprint, so the "bench player" quip makes sense. Still, Aubrey has talked about Clipse with such reverence in the past that its hard to imagine him ever taking a shot like this one, which essentially degrades the subject in question's impact on hip-hop culture. Plus, I'm sure he's heard. THE WHOLE CULTURE IS BASED OFF THIS MUTHAFUCKA PUSHA T!
Meanwhile, mama Graham looks on disapprovingly. Too much swearing and hostility for her taste.
***
"Furthest Thing"
"Your lack of effort got me rapping (or wrapping) different."
Hypothetical Target:
Subway Employees
Once upon a time, Subway sold wraps. Drake was a fan. It just seemed like a far more cozy sandwich option. How could he enjoy his meal knowing his ingredients weren't snug? Meat and cheese and lettuce have atoms too, and that's just one or two or a few thousand steps removed from being human. Drake is nothing if not empathetic. But, alas, Subway discontinued the wraps due to declining sales, leaving the artist with only a selection of subs to choose from. It tore Aubrey up inside. As a result, he has taken it upon himself to wrap his own wraps and he will be the first to assure you he does it with the utmost precision. Drake takes shots at the fast food giant to let them know he's taken up the mantle while simultaneously pushing society one step closer to sandwich equality.
***
"Wu-Tang Forever"
"I don't know what's getting into me / I just like the rush when you see an enemy somewhere in the club / And you realize they're just not in a position to reciprocate your energy / You aint never worried 'cause he's not who he pretends to be."
Hypothetical Target:
Spike Lee
For allowing this garment to be photographed:
It's safe to say no one is ready to reciprocate the energy radiated by this jacket. Because of Spike, this image will exist in the deepest darkest recesses of the Internet forever. This is just about as bad as the time this happened (not just the cheetah print North Face + Red Wide Receiver gloves combo, but the Mistah Fab cameo as well). Hindsight is always 20/20; even Drake must know now this was a questionable call. In addition to creating this candid moment, Spike Lee also pretends to be an interesting person — his twitter account proves this — and it's easy to understand why such a discovery might have Drizzy flustered since he himself is a creator of fine drama and he was looking for someone to bounce ideas off of. He had this great idea for a film about this kid from Toronto who becomes a rap legend and then uses the power he has amassed to swoop through all the American strip clubs savi– ah, man. Forget it.
Obvious Target:
Chris Brown
You know this. Somewhere bruh bruh is out here like
***
"The Language"
"I don't know why they've been lying, but your shit is not that inspiring."
Hypothetical Target:
Joel Osteen
Drake is ruthless. Anybody can get it. That includes legendary nondenominational televangelist Joel Osteen. Aubrey needs to be constantly uplifted — I mean, when your ex girl is standing with your next girl and the girl that you're fucking right now shit can get pretty scressful bruh *gucci voice* — so it comes as no surprise that he often needs a little pick-me-up. Well, someone put him onto Osteen and he immediately hit 'em with the McKayla Monroney face. Fuck is this? How can someone expect him to respond to something this flat? Put Migos on the pulpit instead and you'd instantly have his attention. Drake is clearly looking for a more Kirk Franklin-esque experience.
More Plausible Target:
Kendrick Lamar
Drake be like, "Ayo son, step out the way. You're doing too much."
Peep the numbers…675K+ projected first week
You get three out of five laughing Drake heads:
-
"Fuck anybody that's talking that shit just to get a reaction"
Hypothetical Target:
Daniel Tosh
Aubrey Graham is a soft, delicate flower. Daniel Tosh is a funny, merciless asshole. The two are on opposite ends of the spectrum. Comedy is a platform built on reactions, and Graham Graham doesn't like it when the reactions come at the expense of others. We are all just beings trying to exist, after all. "You don't have to do this." "Everybody makes mistakes." He (probably) texted Tosh a few weeks ago, near tears. Well, after several weeks with no response, Drizzy took it personally. He has had it with the endless berating of internet buffoons — he finds the whole system cruel and demeaning. More importantly though, he just needs to know that he and Tosh are okay.
***
"Pound Cake"
"I hear you talkin', say it twice so I know you meant it."
Hypothetical Target:
Walt, Jr. (Breaking Bad)
First off, it's important to mention that Drake partially understand's Walt, Jr.'s plight.
With that being said, Drake just wants a bit more clarity. Walt was quick with his response: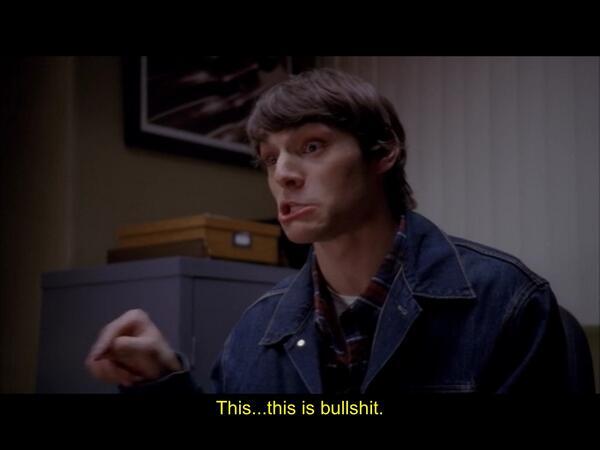 More Likely Target:
Kanye West
As previously mentioned, Kanye and Drake have been sending subliminal shots back and forth for some time now. It's hard to pinpoint when exactly they started, but even in wake of a supposed act of reconciliation the shots have continued. Could this statement be Drake asking Kanye to address him directly? Such a request would be clearly hypocritical given the mere existence of this article. In any case, Aubrey is geared up for beef. Don't do it, please don't do it. Or one of us is going underground to avoid the massive subliminal atom bomb the Toronto kid will unleash (me). Maybe he'll drop a freestyle over "Jesus Walks" called "Yeezus Mocks" that will diss Kanye strictly using metaphors from the old west and old testament, obvious symbolisms for Kanye's advancing age. Or, maybe I'm over thinking this. Somebody tell 'Ye he doesn't want this heat!
-
"My classmates, they went on to be chartered accountants / Or work with their parents, but thinking back on how they treated me / My high school reunion might be worth an appearance /Make everybody have to go through security clearance"
Hypothetical Target:
That kid that shot him on Degrassi
It's hard to imagine Drake hasn't been stewing over this one for a while now.
MUHFUCKAS NEVA LUH'D UH!
This is the definition of taking shots. Drake is obligated to respond. Never has there been a more direct hit. (Pause and take a moment to enjoy how terrible the acting in that gif is. Don't worry, I'll wait) So, he took some time to think about it and he decided he's coming back to Degrassi High to settle the score. Or, at least he's considering it. Strongly. Kinda. There will have to be metal detectors, though, obviously.
***
A quick word of caution: don't ever get on Drake's bad side. If you do, a savage tongue lashing that may or may not be about you awaits. But, it's probably about you. Or is it, really? I don't know, just assume it is I guess.
Then again, there isn't much need to worry either way…
***